Who Will Feed Us?
The average age of the U.S. farmer is 60.
Half of America's farmland is going to change hands in the next 12 years.
20% of our food is imported.
This is the story of young people who are stepping up.
Take action. Host a screening where your community can rally around young farmers in your area.
MEET OUR NATIONAL OUTREACH PARTNERS
Mike Rowe is a bridge between rural and urban. His natural charisma, humor, goodwill, and wisdom, make Mike the perfect individual to voice Farmers For America, a film created to celebrate and inspire the next generation of American farmers.
Mike is a once-in-a-generation talent, Mike provided the voice and the quality of character to make Dirty Jobs a nationwide phenomenon. The show ultimately celebrated people who do the forgotten taken-for-granted blue-collar jobs that keep society functioning. He's currently the host of Facebook's show Returning the Favor, and the hit podcast The Way I Heard It.
Mike is also the CEO of the mikeroweWORKS Foundation, a non-profit that focuses on helping to close the skills gap through initiatives like the Work Ethic Scholarship Program which provide support to people who want to learn a skilled trade.
Graham Meriwether
DIRECTOR, WRITER, PRODUCER, CINEMATOGRAPHER, EDITOR
Graham Meriwether spent four years crisscrossing the country -- from Appalachia to the sun-swept pastures of southern California, from the abandoned lots of Detroit to the fertile fields of northwest Iowa -- to find the farmers who imbue this film with their hard work and entrepreneurial spirit.
Previously, Graham directed the documentary, American Meat, a pro-farmer story showcasing the unique agricultural innovations underway at Polyface Farms in Virginia. Graham is the proud founder of Leave It Better Media, which shares stories of spiritual, economic and environmental healing. Meriwether lives in Massachusetts with his wife, Susan, and their two children, Abraham and Maya Lou.
Maarit Nissilä
Editor, Writer
Maarit Nissila grew up in Finland and moved to the U.S. to attend the American Film Institute where she earned her M.F.A. degree in Film Production. She has worked as a documentary editor in Los Angeles and New York, and her most recent credits include the CNN documentary series This Is Life With Lisa Ling as well as Scene of the Crime for Discovery Channel.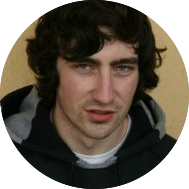 Joe Palmer is a film and sound editor from Dublin, Ireland. He moved to New York in January in search of film and life experience. After being lucky enough to be a lead editor on Farmers for America, he has gone on to work on a number of other documentaries. He is currently an editor at 4th Row Films.
Tanmaya Shekhar
Producer, Writer
Tanmaya Shekhar applies a strong background in trade, public policy and international economics to research and fact-check critical macro-economic issues presented in Farmers for America. Tanmaya graduated with an MS in Economics from the Indian Institute of Technology in 2011.
Andy Trimbach
Cinematographer
Andy Trimbach is a filmmaker/photographer living and working in Brooklyn, NY. Currently he is in pre-production for his first feature film.
Kyle I. Kelley
Cinematographer
Kyle I. Kelley is a Brooklyn-based cinematographer who enjoys working on all projects, from short fiction to feature documentaries, and everything in-between. His recent work includes fiction feature Maggie Black, upcoming documentary features Good Ol' Girl and Jeff Golub: Train Keeps A Rolling, and PBS American Experience: Sealab.
Alison Plante
Supervising Composer
Alison Plante is the Chair of the Film Scoring Department at Berklee College of Music. She plays keyboard and wind instruments and sings, performed in a Gamelan for three years, and has conducted both orchestra and choir. Her composition honors include the Janet Gates Peckham International Award for Excellence in the Arts and the Olga and Paul Menn Foundation Prize for an original literary or musical work. Her scoring credits include seven educational television series for the Annenberg Channel; History Channel specials Bible Battles and Aftershock: Beyond the Civil War; and the documentary feature American Meat.
Chanmi Seo started her professional music education at the University of Alaska, Anchorage where she worked with Professor Karen Strid-Chadwick who introduced her to the beauty of jazz. Seo, raised in Seoul, South Korea, then was accepted at the prestigious Berklee College of Music in Boston where she learned how to compose diverse and profound music, a must for a film score composer.
Joe Cilento is a composer and engineer who has refined his musical skills through years of practice, extensive study and performance. Joe received a Bachelor of Music with dual majors in Film Scoring and Music Production/Engineering from Berklee College of Music in Boston, MA, graduating with Magna Cum Laude honors. Currently, Joe is a technical engineer at Backyard Industries and continues to work as a freelance composer for film and media. He is constantly striving to utilize his musical upbringing in order to create new and exciting art.
Gabriel Majou is an award-winning composer of media music, concert and live shows. The Paris-born Majou is an honors graduate of the Berklee College of Music where he won awards for original film scores. Besides his film-scoring, he has been a versatile session violinist and concert master (Boston Symphony Hall), as well as other collaborations as a soloist with electronic DJ in Hollywood. He is the co-founder of 2Birds Band, a fusion string band. He recently moved to LA where he works with Grammy-winning composer Christopher Tin.
Sergio Peçanha
Animation & Graphics
Sergio Peçanha is a visual journalist and illustrator based in New York. He creates diagrams, maps, charts and animations that help make complex subjects accessible to anyone. He is originally from Rio de Janeiro.
Zach Timm
Editor, Writer, Music Editor
Zach Timm is a Brooklyn based filmmaker/music lover. Who has worked for years as a doc style videographer, editor and most recently music editor. Also is a member of and works as event producer/social media manager for NYC based film collective, Filmshop.
Suzanne K Milton is a freelance writer/editor/actor living in New York City. She's been published in "Read Me" magazine and has spent time editing with the award winning television station, WTOC-TV in Savannah, Georgia.
Ryan Nethery
Cinematographer
Ryan Nethery is a cinematographer and filmmaker based in the USA. His work includes Emmy-winning documentary TV and feature films for HBO, Starz, Vice, Amazon Studios, Viceland, National Geographic and others.
Neil Hamilton
Special Advisor
Mary Hendrickson
Special Advisor
Mary Hendrickson has spent 15 years working to create local food systems in the state of Missouri through University of Missouri Extension. She participated as an advisor in the creation of the Greater Kansas City Food Policy Coalition, and serves as a technical advisor for the Missouri Convergence Partnership. Hendrickson currently serves as the Undergraduate Advisor Chair in Sustainable Agriculture and teaches courses on sustainable food and farming systems at MU. She has served as President of the Agriculture, Food and Human Values Society and of the Community Food Security Coalition. She received the 2012 Meritorious Service Award presented by the National Farmers Union for her service to agriculture.
Tom Jennings
Consulting Producer
Tom Jennings has been producing for FRONTLINE since 2009. His film Law and Disorder about civilian deaths by New Orleans police after Hurricane Katrin, made with ProPublica reporter AC Thompson, won the prestigious George Polk Award and was nominated for an Emmy Award. Jennings has also won two national Emmy Awards, the duPont-Columbia Silver Baton Award, the Edward R. Murrow Award and three Writer's Guild of America Awards.
Memo Salazar
Consulting Producer
Memo Salazar is a filmmaker, writer & artist who has directed Public Enemy music videos, coauthored a TED Talk with Brian Greene, and played the role of Supervising Editor on Sesame Street, among many other broadcast television and film projects. He is also an activist who runs a CSA and writes about politics and other social issues.